Posted 7 years ago on Feb. 2, 2013, 3:26 p.m. EST by DKAtoday (33802) from Coon Rapids, MN
This content is user submitted and not an official statement
One thing to make note of however - the major spikes - one starts just after 1910 and runs to 1933 ( rate at 9.7 ) then it steadily drops till about 1958 ( rate at 4.5 ) start of another major spike that ends around 1990 rate at 10.0 ) and drops - the chart below ends at 2000 when the rate was 6.5 per 100,000 and now 2011 report says a continued drop to 4.8 per 100,000
The 1st major spike starts just before WWI ( 1914 ) and continues thru the Great Depression ( til 1933 ) the Dust Bowl and Prohibition ( ending 1939 )
The 2nd major spike starts just after the USA into the Vietnam War ( 1955 - 1974 ) increasing from a low of 4.5 in 1955 thru the start of the Drug War ( 1971 - ongoing ) reaching peak rate 10.7 in 1980 dropping to 8.4 in 1985 ( Gulf war 1990 - 1991) climbing again to 10.5 in 1991 at top of spike. 2nd spike drops off after 1993
Invasion of Afghanistan ( 2001 - ongoing) Invasion of Iraq ( 2003 - still involved ) Homicide rate for 2001 reported at 5.6 dropping to 4.7 or 4.8 in 2011
So there appears to be a statistical anomaly from 1993 to present date. Available information for 2000 - 2012 seems quite lacking. Prior history shows that we should still be in a major high homicide rate - but that is not what is being reported.
So what happened ( did not happen ) between 2000 and now that would account for this bewildering fact? I mean we got 2 wars ( and other actions undeclared ) we are still in the midst of a major economic meltdown 2008 - present day.
So - Where the hell is the corresponding violence? Where are all of the homicides. We see them reported on the Spews ( I mean news ) but the actual(?) data does not seem to be available.
Current reported rate seems very unlikely at a 4.7 or 4.8 per 100,000 for 2011.
---
Check out the homicide chart attached then look at the population figures. Population today is over twice the size of 1920 population. Looking at the chart and comparing population size - we are roughly in the same area as homicides go.
USA Homicide Rates polyticks.com/polyticks/beararms/liars/usa.htm Homicide Rates USA, 1900 - 1998 ... southern attempts at gun control in the 1870-1910 period, the northeastern attempts in the 1920-1939 period, the attempts ...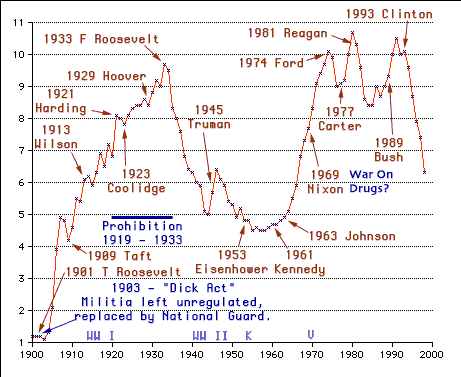 Be sure to note the really bad years and check your history books for what was going on.
Population:
Year = size of population
1920 = 106,022,000
1950 = 151,325,000
2010 = 281,422,000
Great Depression years = 1929–1939
Dust Bowl years = 1932-1935
Prohibition years = 1920-1933
REPORTED Homicide rate per hundred thousand :
4.8 in 2011
6.8 in 1920
8.8 in 1930
6.3 in 1940
6.4 in 1939