Posted 5 years ago on June 30, 2015, 9:54 a.m. EST by factsrfun (8258) from Phoenix, AZ
This content is user submitted and not an official statement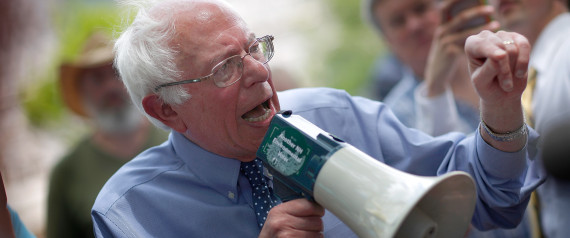 "In other words, the electoral map shows that Bernie Sanders is not only a realistic candidate for president, but his record on a number of issues speaks to a wide range of voters. If Democrats simply vote based on their value system (considering demographic shifts favor Democrats), Bernie Sanders can easily win the presidency. If they nominate Hillary Clinton out of despair, thinking this is still 1999, then email scandals and an Iraq War vote could mitigate any advantages a Democratic challenger has over Jeb Bush or another Republican.
These aren't the days where Karl Rove can tap into a well of homophobia (Hillary was also against gay marriage at the time, stating "I don't support gay marriages, but I do support extending benefits to couples...") and gain millions of GOP votes by pushing for an amendment banning gay marriage. While "Moral Values" once carried GOP candidates into the White House, our outlook on social issues has changed as a nation. Americans care more about wealth inequality nowadays than marching with Mike Huckabee against the recent Supreme Court decision on gay marriage.
Ultimately, the only way for the GOP to win the White House in 2016 would be to campaign against a Democratic candidate who most resembles the Republican platforms on Wall Street, war, trade, and other issues. Hillary Clinton voted for Iraq, she's amassed $328,759,064 over the years (three of her top five donors are Citigroup, Goldman Sachs, and JP Morgan), and she was against gay marriage up until recently. Bernie Sanders is actually the only hope Democrats have of winning the White House without a controversial email showing up days before people line up at the voting booths. While the GOP is ready for Hillary Clinton, Sanders represents a real challenge to union busting Scott Walker and Jeb Bush's support for the Iraq War. In today's political environment, Hillary Clinton winning the presidency is the "fairy tale," while Senator Bernie Sanders is the most realistic choice for president in 2016."
Follow H. A. Goodman on Twitter: www.twitter.com/HAGOODMANAUTHOR
http://www.huffingtonpost.com/h-a-goodman/why-bernie-sanders-will-become-the-democratic-nominee_b_7685364.html