Posted 6 years ago on Feb. 9, 2014, 3:23 p.m. EST by ZenDogTroll (13032) from South Burlington, VT
This content is user submitted and not an official statement
Yeas, yeas . . . remember when . . .
Here he is running for election to high office, 1996. Yeas - yeas - here he is, a voice for the voiceless or , , ,

divider of the people . . .
.
.
Omy! are these the sentiments of clansmen and neonazis everywhere?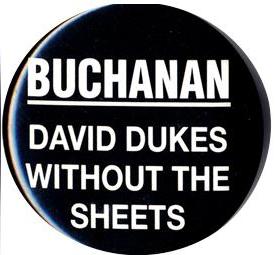 .
This would appear to settle the issue of those pointy white hats in PUKEcannon's closet . . .
.
This one is a new one to me - but I guess that just goes to show PUKEcannon is a staunch disciple and ardent defender of all that is lawn rallian political theory - if it is fair to call it political theory at all . . .
'
you can quote that scumbag all you want, shadz, and that won't make you a radical. It just puts you in the company of liars and thieves . . .