Posted 10 years ago on Nov. 15, 2011, 6:06 a.m. EST by Thrasymaque (-2138)
This content is user submitted and not an official statement
What is Occupy? Many theories have been explored, but we still remain largely unsatisfied. Some hold a positive if not utopian view of the movement branding it as a much needed heroic stand of the people for the people, some boldly criticize it and attempt to understand who are the forces behind the curtain often slipping into a conspiracy theory type analysis, and others simply dismiss it as nothing more than a bunch of kids in a park. The protesters themselves seem confused as to the true nature of Occupy.
We all agree there is a major worldwide economic problem and that most Republics have transformed into Ogliarchies. We all agree change won't come from honest politicians, but will somehow have to be forced upon them by the people. We all agree politics and big business need to be decoupled. The agreements seem to stop there.
Occupy has marketed itself as a non-violent protest by the 99% against the 1%. It maintains the protesters have various political affiliations and that none is encouraged over the others. Since they use general assemblies and direct democracy to make decisions, anyone can participate: anarchists, democrats, communists, liberals, republicans, socialists, etc... One need only to come to the general assemblies and propose their ideas.
That being said, we do know Occupy was largely designed by anarchists and that they use anarchist tools like direct democracy and occupations. They aspire to be an horizontal movement without leaders, and do not wish to make demands since that would create an inevitable hierarchic relation between the ones demanding (Occupy) and the ones to who the demands are being made (the government). For more information on the anarchist background of Occupy, I recommend reading this great article from Business Week: David Graeber - The Anti-Leader of Occupy Wall Street (an easier to read version is posted here) Also, you might want to read essays written by David Graeber.
If Occupy is open to various political affinities, we have to wonder why they have so strongly espoused an anarchic-communist look in their promotional material. They have adopted the famous raised fist, the black color or anarchy, the red color of communism, the idea of the heroic worker, the sickle, the hammer, the imperial sun rays, etc...
It also seems strange that a non-violent movement would print posters with such epithets as "US Days of Rage", or "Fight Back", and print pictures of tanks, and blood dripping from handcuffed wrists. We even want to question the use of the word non-violent instead of peaceful. Non-violence assumes violence is the norm and that it must to be countered, struggled against. Peaceful is much nicer, calmer.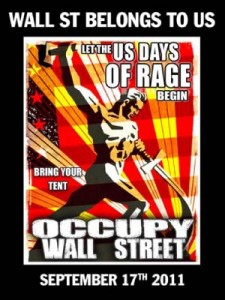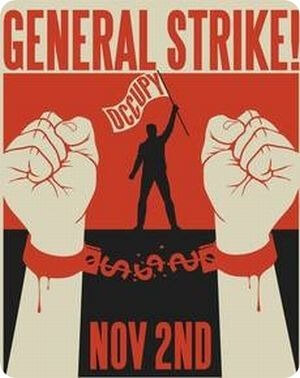 We could argue that Occupy needs a new look that doesn't take inspiration from past movements and regimes. A look not tied to Tienanmen Square, Egypt, or any other movement that had its own political and social problems. We feel a look that represents all the ideologies of the movement would be best, and that this new unique and modern look should be free of violent wordings and images. It should be a look that aims to promote true peace and harmony between all. It should not demonize the police, nor the state, but instead try to invite them into our arms.